2004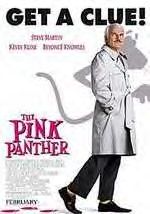 A world-famous soccer coach has been murdered and his priceless ring has been stolen. The ring is set with a stunning diamond known as the Pink Panther. The French government wants a master detective to solve the crime and recover the gem... but the one they want isn't available, so in comes Inspector Jacques Clouseau to solve the case.

Our Jean plays Ponton, who is employed as Clouseaus driver, but who is in actual fact a secret Policeman sent to spy on Clouseau and his antics.


Cast and Director:

Cast:
Steve Martin ... Clouseau
Beyonce Knowles ... Xania
Kevin Kline ... Dreyfuss
Jean Reno ... Ponton
David Beckham ... Football player
Emily Mortimer ... Nicole
Kristin Chenoweth ... Cherie
Henry Czerny ... Yuri

Director: Shawn Levy


Distributor: MGM - 20th century Fox.
This Movie was Released in July 11th, 2005 and is reportedly the sequel to the original Pink Panther film starring the great Peter Sellars.

Personally, I think that Jean should have been Clouseau, he even looks a little similar to Peter Sellars, and for the last few years I have said that they could revive the Pink Panther films using Jean Reno as Inspector Clouseau, at least he's actually French too! They could have had Christian Clavier as Ponton, he would have been good in that part.

I've got to be honest here; this film is a total load of crap! It is an insult to Peter Sellers and Blake Edwards, and Jean, being cleanshaven in this film doesn't do much for your sexy image either. Plus; Ponton and Clouseau have a bit where they are dressed in curtain material catsuits and they are dancing about to blend in with the scene, this is the most squirmingly embarrassing thing that I have ever seen Jean Reno in! Steve Martin has never been my kind of funny or one bit humourous either.

There were a few funny bits in the film, like an old lady getting knocked on to her back by being hit with Clouseau's car door and flashing her bloomers/knickers off. It was supposedly set when the Tour de France was on, so watching someone getting knocked off of their bicycle the first time was funny yes, but they had to keep using the same old scene for laughs, which turned out to be boring in the long run.