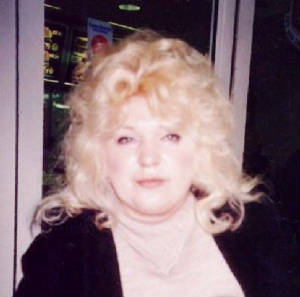 Elodie Caroline
I live for my writing and have done so for the last five years or so. I suppose I was always destined to become a writer, as ever since being a small child I've been a dreamer and have always had a very vivid imagination. I have also been an avid reader since I was four years old, and writing stories was my favourite thing at school, I always got top marks for them too. My written work would be passed around the whole school at times too, even the teachers liked to read them.

I had made my mind up, at twelve years old, that I wanted to write novels, but real life got in the way - Going to work, looking for Mr. Right, partying, and all the other usual stuff that everyone else does - Which all gave me a lot more personal experience to use within my writing. Then, through ill-health, I ended up in the situation where I coul no longer do all of the things I used to do, drawing, painting, sewing and going out walking etc. So I finally turned to my old love, writing, which I do on my PC.

I write, 'contemporary romantic suspense.' I like writing love stories, but the kind of stories I write are definitely not sacharine sweet or the fantasy kind; they are based on real-life and are gritty, sometimes quite raw. I've lived that kind of life, so I know what I'm talking about, and I will only write about what I know. Most of my novels have a criminal/nasty element running through the background of them. To me, things in this world are never black or white, they are always shades of grey, so that is how I write my novels.
I once heard a radio show, on bbc radio 5 live, where they were saying, that a certain female author sent researchers out to pubs to find criminals for her to interview about crimes for her to write about. All well and good, I suppose, but anyone who knows petty criminals, also knows that they do a lot of bragging and upping themselves on the things they actually did just to make themselves look 'good' to the rest of the criminal fraternity. Good is not really the operative word here, is it. I don't have to do the kind of research that this author does, as when I was in my late teens and most of my twenties, I lived with these kinds of people. So I can happily write about the seedier side of life, because I know all about it from first hand experience. I can also ask my ex-boyfriend anything I don't already know about, for example: how long a bent policeman would get in prison for helping plan a robbery etc. >*Disclaimer* I have never actually been in trouble with the law myself, and I never will be; but I do know how the criminal mind works.

Besides the life I have lived, I get my inspiration from the great French actor, Jean Reno. I love his films, pure and simple, because he's in them. However, I think he should be the lead role in different genres of films than he already is, so I write the kinds of stories I would like to see him star in.
I also love the genre of the French cinema, so I write my novels in the same kind of way that I view French films. My main interest in stories is usually people struggling and finally getting what they want in the end, I do so love happy endings. I also teach my characters lessons on life and how to win through the not so pleasant times.
I have to be honest here, I have never actually read a romance novel; I think the nearest I've ever been to this was reading the five novels to the 'Flowers in the attic' set, by Virginia Andrews. My favourite story, from that set, was the grandmother's story in 'Garden of shadows' and how she used to watch her brother-in-law with his young wife. The grandmother was secretly wishing that her own husband was like this, instead of the cold-as-ice man that he was
I always have to have happy endings in my own stories, as I remember the very first time I ever saw the film, 'Gone with the wind,' when I was in my early twenties. I hated the ending of it; Scarlett had finally realised that she did love Rhett, but he cleared off. I couldn't sleep that night because I was so upset at the ending, so my endings will always be happy ones.
Elodie